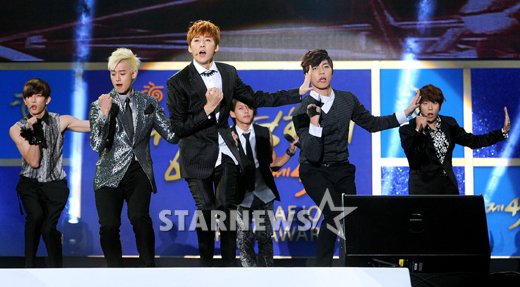 U-Kiss will come out with new material in Korea in March.
In the upcoming spring, U-Kiss will release a new album they have worked on in collaboration with the hit song maker Kim Hyung Suk. Having worked with Kim since April last year, U-Kiss again worked on the new album with him.
On January 30, a spokesperson for U-Kiss said, "Such songwriters as Kim Hyung Suk and Ryan Jeon, who worked on U-Kiss's previous albums, again participated in the group's new material. As U-Kiss received a lot of attention in Japan last year and are planning to go on a tour of Japan soon, they'll travel between Korea and Japan for a while."
Since NH Media, U-Kiss's agency, formed a partnership with Kiwi Music, which is owned by Kim, U-Kiss and Kim have worked together. Kim composed U-Kiss's song "Dora Dora." It's one of the few dance numbers composed by him as he has mostly composed ballads.
U-Kiss are currently attracting a lot of attention in Japan. After they released the second album, Neverland, in Korea in 2011, they moved to Japan and released two albums. When they went on a tour of Japan, they attracted nearly 30,000 people to their concert.
SOURCE:
CR: U-KISS KISSME BOLIVIA